WEDNESDAY 30 OCTOBER 2019
Could Optical Bonding Enhance your Broadcast Application?
Already a widespread technique in industries such as automotive and medical, optical bonding has the potential to dramatically increase both the performance and durability of displays used in broadcast equipment. In this article, Luo Luo, Global Product Manager – TFT of Densitron, explores what optical bonding is, what its benefits are, and how these can be of use in a broadcast environment.
Optical bonding
Optical bonding is the process of laminating a touchscreen or cover lens to a display with an optically clear layer. The particular materials and processes used vary from application to application, but all fulfil the same fundamental function – filling the air gap between the touchscreen or cover lens and the display. This reduces the number of internal surfaces off which light is reflected, thus reducing internal reflected light loss and increasing the contrast ratio.
Increasing contrast
The improved contrast ratio delivered by optically bonded touchscreens and displays means more defined blacks, brighter whites and exceptional colour brilliance. All are growing in importance as high-dynamic-range (HDR) imaging becomes an ever more integral part of production and broadcast.
Reducing wash-out in bright conditions
The most obvious benefit of the increased display contrast enabled by optical bonding is the reduction of wash-out effects in bright conditions, which, when an air gap is present, can create a light reflection of as much as 8%. This factor has given rise to its popularity among our clients in the medical and automotive sectors, both of which rely heavily on the accuracy of displays. This also makes it particularly beneficial for displays and touchscreens used in studio environments with a high amount of ambient light, as well as in live outside broadcasts of sporting and music events.
Increasing readability
Because it eliminates the air gap between the cover glass and display, optical bonding reduces the potential for issues that can occur when light reflected in such a gap creates the illusion that pixels move, depending on the viewer's line of sight. As a result, optical bonding increases contrast and readability, thus increasing the range of angles from which the display can be viewed without distortion, and often perceived as widening the overall viewing angle by the end user. This is something that is vital in busy broadcast control rooms and in on-air video walls.
[The reduction of wash-out effects in bright conditions] has given rise to its popularity among our clients in the medical and automotive sectors, both of which rely heavily on the accuracy of displays
Protecting from moisture or dust
Optical bonding isn't only used between touchscreens and displays. A growing number of manufacturers are turning to us to optically bond cover lenses to displays to give added protection. In equipment set to be used in busy studio environments, optical bonding can prevent dust and grime from collecting between the cover lens and display over time. Similarly, optically bonding the cover lens to the display in equipment that may be exposed to the elements in outside broadcasts can prevent damage caused by the ingress of moisture or airborne dirt. In tests carried out internally, optically bonded displays showed no operational change after undergoing rigorous heat and humidity cycles, something that cannot be said for displays, which do not have this feature.
Improving strength and durability
An additional benefit of optical bonding is that extremely strong bonds are created when air is removed from the gap between the cover glass and the display. This can increase the overall strength of a touchscreen or display, thus increasing impact and shock resistance, improving the product's durability and reducing the likelihood of faults or warranty claims. As this is incredibly important to some of our customers, they have undertaken their own tests on the durability of various displays, and optically bonded displays passed according to EN 6050-1 standards.
Selecting the right optical bonding solution
The materials typically used in optical bonding include optically clear adhesives (OCAs), such as those used in smartphones and tablet computers for the consumer technology market, optically clear resins (OCRs), such as those used in point-of-sale terminals, ATMs, touchscreen monitors and satellite navigation systems, and optically clear gels such as those used with the small TFT and PMOLED displays utilised in wearable devices and broadcast monitoring equipment. Which material is selected and which process is used to create the bond will vary widely according to the substrate used for the overlay and the nature of the display, as well as whether the solution needs to be reworkable and what the primary reasons are for needing optical bonding.
A growing number of manufacturers are turning to us to optically bond cover lenses to displays to give added protection
One recent example of where material choice played a huge factor was with a Densitron customer based in the US. With an end product that needs to operate constantly and reliably in high heat and humidity, the customer was looking for an integrated display that could cope with these harsh environments.
Initially, we advised a flush-mount cover lens and an IP-rated gasket with an optically bonded sunlight-readable display. In the initial tests, everything was performing well. However, over time, the customer noticed that in using this combination, delamination was occurring between the cover lens and the optical bonding and deduced it was a problem because of their end product. No allowance was made for the thermal expansion of components under such harsh environmental conditions. With our advice, they then looked at using different materials to allow for the extended rating they obviously needed while we optimised our bonding process to incorporate these findings and meet the new requirements.
Regardless of whether they are used as part of a solution for video monitoring or audio mixing, in instrumentation for live production switching or in post-production colour grading, the performance and lifespan of both touchscreens and displays can be enhanced through optical bonding. Discover how it could help you overcome your display challenges at www.densitron.com.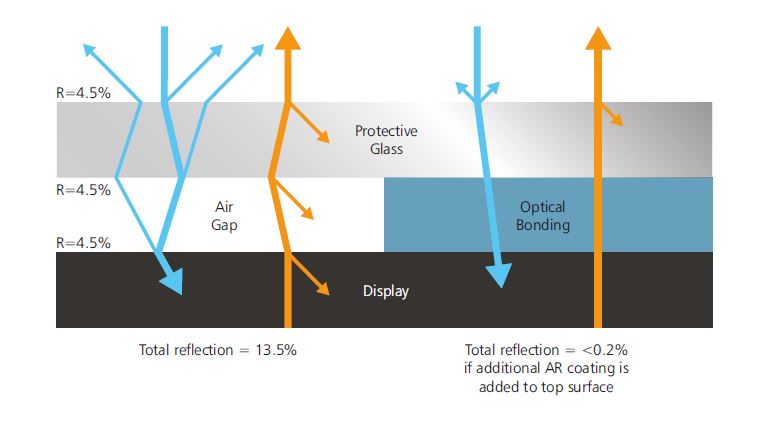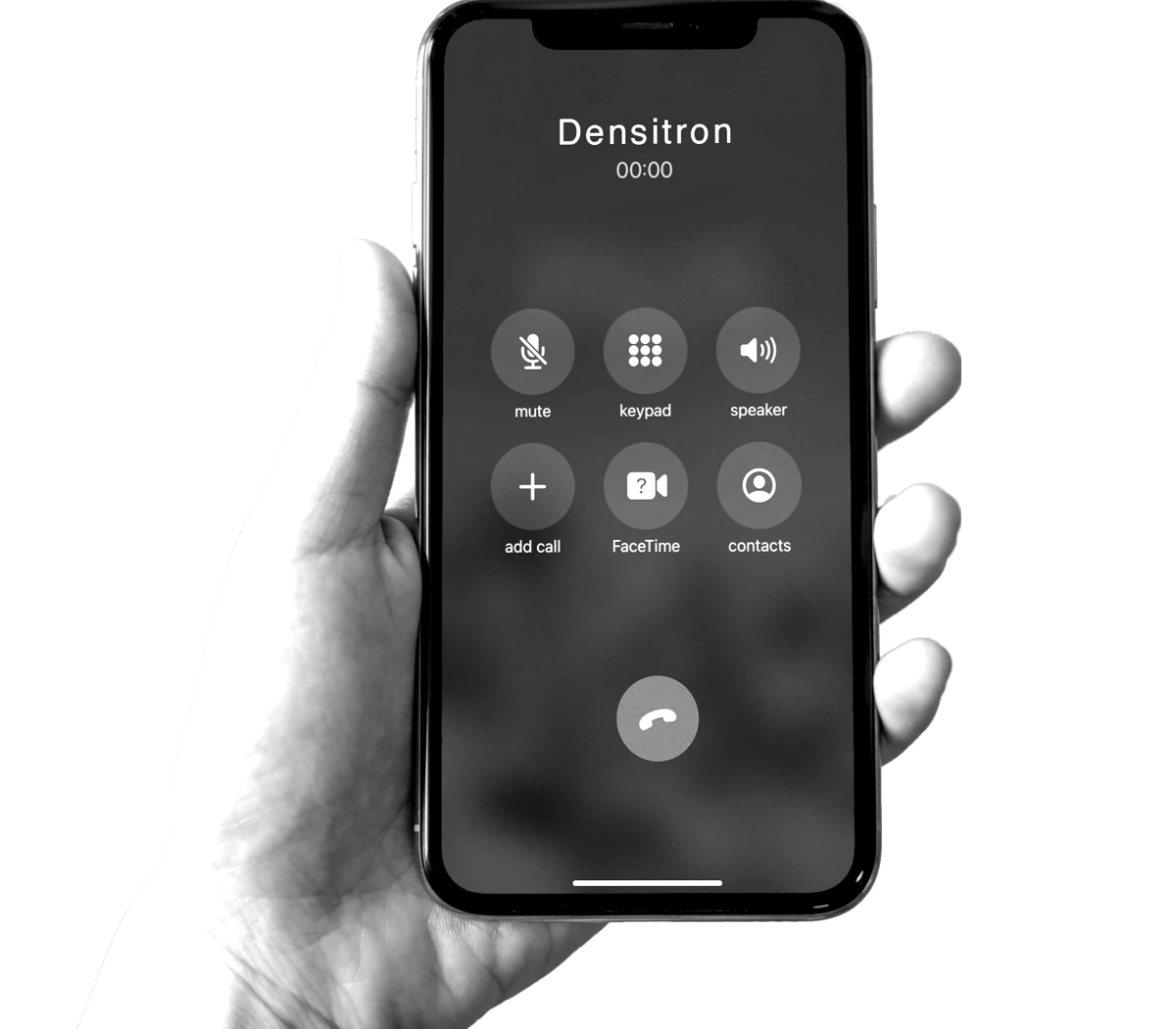 Contact us
For more information about Densitron or any of our products and services please contact one of our regional offices or contact@densitron.com
Contact us